Our Promotion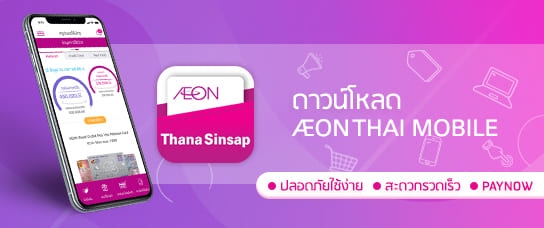 You can access your card's balance / billing information and card promotion information anytime, anywhere.
Customers who have an AEON Credit card / Member Card issued in Thailand can access all functions for free (expect internet fees charged by mobile carriers).
Easy user registration by fulfilling just a few fields, you can enjoy full functions of this application immediately.


Dashboard – You can easily access your card information!

You can check your billing information and available limits on one screen.



Pay Now – You can pay for AEON monthly bills from your bank account(s) and:

You can pay your AEON monthly bills from your bank account through AEON THAI MOBILE.
Your payment through this function will be instantly credited as soon as you pay, so you can enjoy available limit immediately. (In some situations, your payment may not be instantly credited depending on circumstances)
This function is available for K-Bank and Bangkok Bank accounts only. (More bank options will be added continually)
[For K-Bank Users]

To use Pay Now, please download and register K-PLUS application on your device beforehand.

[For Bangkok Bank Users]

To use Pay Now, please prepare your bank's ATM card to register for Online Direct Debit.
Once you complete the registration, you can start paying by just confirming your payment immediately (Only Thai Citizens are eligible to register for Online Direct Debit).

Payment fees depend on each bank.



Easy and safe login with a login passcode

Login with a passcode : a 6-digit number
Login with your Fingerscan



E-Statement (Review the latest 6 months card statement)
Conversion to Happy Plan (installment payment plan)
Happy point inquiry and redemption
Promotion Information
Search service location (Branch / ATM / AEON Lounge)
iOS 11.0 or above
Android 4.4.4 or above
Improve Registration Process more easily

You don't need to input username / password of AEON Online service (website) to log into application.
Once you finished install, you can enjoy full functions of this application immediately by easy user registration.
In case you had changed your device or you reinstall application, you can use application by registration again.



Improve E-Statement

You no longer need to enter password to open E-statement.



Support finger print authentication to login

Support finger print authentication for Android device. (Only for device Android 6.0 up and support finger print function)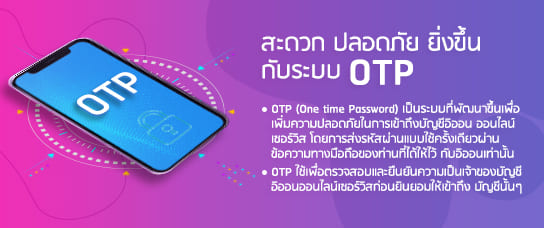 OTP (One Time Password) is a security feature which smarter, more advanced security system to protect your AEON Online Service account by sending through SMS to your mobile number registered.
OTP is used to identification and authentication customer before allow to access to AEON Online Service system.
Register AEON Online Service
Logged in AEON Online Service if you did not log in more than 3 months
Rewards Redemption in AEON Happy Reward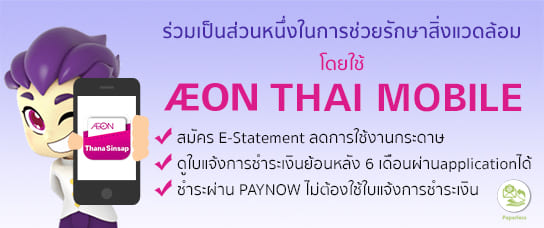 Save the environment with AEON Online E-Statement service to reduce paper usage.
Just easy steps to apply for the electronic payment advice via email.
Safe, Fast, Comfortable make your life easier than ever.


Enter www.aeon.co.th
Register / Login to AEON Online Services
Input User and Password to Login
Click "E-Statement"
Click "Apply to stop paper statement"
Press confirm E-Mail and accept conditions
Apply to stop paper statement completely
The system will send email E-Statement Registration to user's email